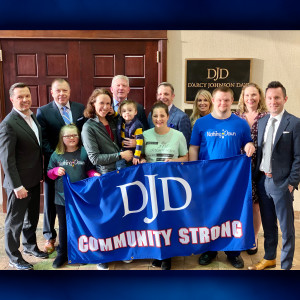 Thank You For Your Support of DJD and Nothing Down!
Thank you to everyone who liked and shared our page for our $31,000 in 31 Days Holiday campaign in support of Nothing Down. We are thrilled to let you know that because of the overwhelming response, DJD has donated $5,000 to Nothing Down for their newest movie project, Dear World!

The founders of Nothing Down work tirelessly to change the way the world views Down Syndrome. After producing 14 viral projects, a photo series that has been shared by more than a million people, and a documentary series that have been viewed well over a million times, the nonprofit organization is successfully spreading a message of acceptance and understanding. With the help of a $5,000 donation from the D'Arcy Johnson Day law firm, Nothing Down is embarking on its next project, a movie entitled
Dear World.
"Nothing Down is doing incredible work, not only in the region, but throughout the whole world. With ambassadors in eight different countries and social media followers from over 55 different countries, Nothing Down has become an important voice in the conversation about intellectual disabilities," said
Steven Johnson
, a partner at D'Arcy Johnson Day. "
Dear Doctor
was an impressive and insightful film aimed at medical professionals who interact with families affected by Down Syndrome, and we are happy to support the follow-up project,
Dear World
."
Parents of children with Down Syndrome appreciate the support of sponsors like DJD on both an emotional and practical level. "The generosity and continued support from DJD warm my heart and give me so much hope for my son's future," said Paula Ferrari, mother of Nothing Down Ambassador Auggie Ferrari. "Not only have they given to Nothing Down financially, but their staff has taken time out of their schedules to get to know my son and other members of our community. I am so excited to see the finished product of
Dear World
and what the future holds for Auggie and the rest of the Down syndrome community. Nothing Down and DJD are truly making strides to show the world that there is Nothing Down about Down syndrome."